How many connections do you see? When putting together distillation systems that function under vacuum, you cannot forget to use vacuum grease on all the connections or leaks will happen. Tracking down a leak after everything is set-up just leads to frustration and wastes time!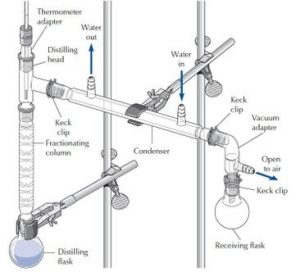 Important Considerations for Set-Up
All the glass parts should be handled gently, washed, and dry before loading.
A good quality vacuum grease should be applied to each joint and connection before installation that includes all glass and vacuum fitting interfaces.
Lastly, check the vacuum hoses and pump for proper function.
What kind of vacuum grease do we use?
We like the Apiezon L High Vacuum Grease, but any vacuum-rated grease would work.
Apply very little, to the male end of the glass connection only. Upon insertion it will travel to the female end of the joint.
Voilà you have a good vacuum seal to help avoid a leak at that site keeping your vacuum consistent throughout the system.
More about the Apiezon Ultra-High Vacuum Grease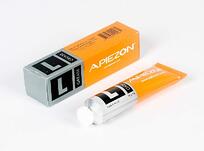 Is silicone- and halogen-free and suitable for use in scientific and industrial applications
May be used on all ground joints in a vacuum system where it is essential to have a grease with good lubricant properties combined with an exceptionally low vapor pressure
Working Temperature: 10 to 30 degrees Celsius / 50 to 86 degrees Fahrenheit
Vapor Pressure at 20° Celsius: 7 x 10-11 Torr
Doesn't suffer from contamination problems associated with silicone-based grease
If you are looking for a grease capable of performing at higher temperatures, Apiezon AP101 or Apiezon H Grease may be more appropriate.
Please email [email protected] for more information