Fundamentals of Convection-Enhanced Pirani Gauges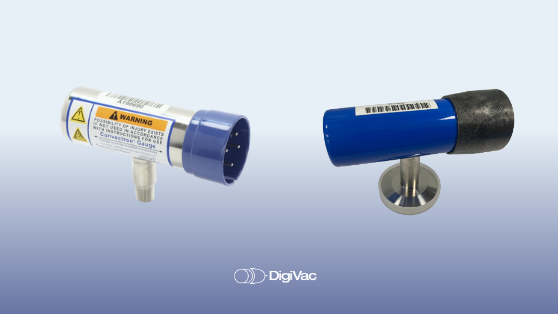 Convection-enhanced Pirani gauges work on the same principle as thermocouple sensors, where vacuum measurement is made based on the rate of heat loss from an excited sensor wire. Additional heat loss occurs due to convection at higher pressures.
This type of gauge takes advantage of this heat loss and the range of measurement is extended compared to a thermocouple-type sensor, whose usable range is considerably shorter. They also have a faster response time than thermocouples, in milliseconds compared to seconds. They are popular in a wide range of industries due to their wide range of measurement.
DigiVac has expanded its product line and enabled the StrataVac Controller to read convection-type sensors with the same accuracy and reliability that it currently reads piezo sensors, thermocouple sensors and capacitance manometers.
The StrataVac convection option can be paired with the MKS sensor or its equivalent from Kurt J. Lesker. Unlike other manufacturers for this type of setup, the calibration is performed in our facility under real vacuum. This option has a range of 1E-4 – 1,000 Torr. We can claim accuracy ranges comparable to those stated by the manufacturer of the sensor.
Accuracy Specifications:
1.0×10-4 to 1.0×10-3 Torr; 0.1 mTorr resolution
1.0×10-3 to 400 Torr; ± 10% of reading
400 to 1,000 Torr; ± 2.5% of reading
Available Convection-Pirani sensors offered by DigiVac include:
MKS (1/8″ NPT and/or KF16)
Lesker (1/8″ NPT and/or KF25)
Learn more about DigiVac's convection controller and applicable sensors today here.