Sale!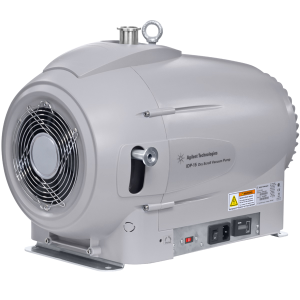 Agilent IDP-15 Dry Scroll Pump with Power Cord | 9 CFM
The IDP-15 scroll pump is cleaner, quieter and easier to maintain than rotary vane pumps 
Clean with less maintenance
~ Oil-free which means no pump oil changes
~ You don't have to worry about oil back streaming or migrating into your process
Really quiet – you can easily have a conversation while it is running right next to you
Pumping Speeds of 9 CFM or 15.4 m3/h at 60 Hz with a base pressure of 10 millitorr
Contact us for current lead time
Description
Additional Information
Video
Reviews (0)
Product Inquiry
Manuals
Product Description
Product Description
This Agilent  IDP-15 dry scroll pump (X3815-64000) does not contain corrosive, explosive or particulate forming gases. The state of the art in dry scroll pump technology  designed for extremely quiet and low vibration operation, delivering a peak pumping speed of 9 cfm at 60Hz.
Clean. Quiet. Reliable. Oil Free
Better performance than pumps of similar size
Isolated Dry Pumps (IDP) rapidly pump down to low base pressures, maximizing turbo pump performance and system reliability
Gas ballast allows for vacuum flexibility and higher vapor tolerance
A cleaner environment inside the pump and your lab
IDP-15 dry scroll pumps do not use oil, which can spill, leak or infiltrate the vacuum system. Good for your process, lab, and the environment
The hermetic design provides a clean gas path through the pump, which eliminates any risk of oil or grease contamination allowing the motor and bearings to run at atmospheric pressure, isolating them from exposure to vacuum process gases or water vapor
Less downtime, lower ownership costs
Traditional pumps demand hours of scheduled maintenance and eliminate expensive oil topping, changing, and disposal | plus the risk of pump seizure
IDP scroll pumps require simple tip seal replacements in 2-3 year intervals and can be completed in about 15 minutes
Digital hour meter for tracking service intervals
Quiet and low vibration
Worried about vibration about delicate lab equipment? Worry no more! The Agilent IDP-15 dry scroll pump operates as quietly as a normal conversation (50 dBA) and the scroll design reduces vibration.
Pull Deeper Vacuum / Gas Ballast Positions 1 and 2
The IDP15 has two gas ballast ports that assist the pump in handling condensable gases such as water vapor, or other gaseous products that become liquids or solvents when reaching atmospheric pressure. Allows the operator to pull vacuum to 1 torr or a deeper 250 mtorr while handling heavy gas loads.
Pumping Speed: 256 liters per minute or 15.4 m3 per hour | 9 CFM
Base Pressure: 13.3 x 10-3 mbar or 10 x 10-3 Torr
A typical scroll pump like the Agilent IDP-15 will achieve a base pressure of 20 mTorr. When you see a gradual increase of your base pressure over time, it is time to change your tip seal
Inlet Connection: NW25
Exhaust Connection: NW16
You can purchase wing clamp and centering rings to go with your pump. Need help setting up your system for a specific application? We have a staff of vacuum engineers that can help build out a system that can meet your needs in one package. Just contact us
Common Applications: ideal solution for vacuum users in most clean applications, for backing a turbo pump, for load-lock applications, and for multiple 5+ cubic foot vacuum ovens
Academic and Research (Government research labs, University labs, and High energy physics/beam lines)
Industrial (Glovebox, Crystal pulling, LED/light manufacturing, Freeze drying, Gel drying, and Sample preparation)
Instrumentation (Cryogenics, Electron microscope, Helium re-circulation, Leak detectors, Mass spectrometry, Ion implant, and Surface science instruments)
Agilent Part Number: X3815-64000
Pump Type: Oil-Free, Scroll
Pumping Speed: 9 CFM
Ultimate Pressure: 10 x 10-3 Torr
Power: 120V / 1ph (220V available)
Intake Connection: KF-25
Dimensions: 19.08" L x 9.22" W x 14.3" H (485mm x 234mm x 363mm)
Weight: 75 lbs (34 kg)
Conformance: CE, CSA, RoHS
Additional Information
| | |
| --- | --- |
| Weight | 75 lbs |
| Shipping Dimensions | 35 x 25 x 30 in |
Video
Telephone:
(732) 765-0900
, FAX: 732-765-1800
Address: 1020 Campus Dr. West, Morganville, NJ 07751
A Family Owned Vacuum Instrumentation Business Delivering Innovations for 30 Years
|
Privacy Policy
© 2020 DigiVac. All Rights Reserved.
Powered by WordPress. Designed by