StrataVac | Behind the Name

How did STRATAVAC get its name?
The prefix Strata is for Stratum. Webster's Dictionary defines Strata as "a layer of material, naturally or artificially formed, often one of a number of parallel layers one upon another". STRATAVAC, DigiVac's Multi-Gauge Vacuum Controller, is customizable for a number of Vacuum Applications based on its ability to add additional driver cards to the vacuum instrument. And "Vac" for, well, vacuum ;).
Strata (many layers) of Vac (vacuum) capabilities.
Now, let's dig into a few of the DigiVac STRATAVAC and STRATAVAC Touch lines features and benefits.
Need to measure vacuum at one point of your system? No problem. Add a thermocouple, Piezoresistive, or capacitance manometer cards to the STRATAVAC vacuum process controller and you are good to go.
Expandable: STRATAVAC can have up to 3 gauge cards, and the STRATAVAC Touch vacuum process controller can have up to 4 gauge cards.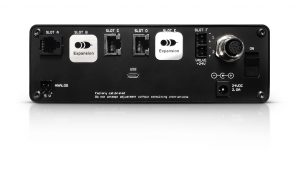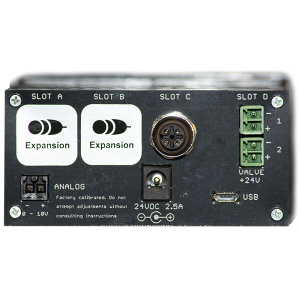 Vacuum Process Control: STRATAVAC comes standard with the ability to set upper and lower set-points to help you keep your vacuum level within a certain range without the addition of an isolation valve.
Data Documentation: Standard with USB output to PC and ability to surf over to your data using the DigiVac cloud vacuumnetwork.org. Need to capture and record your vacuum process data? No problem: this can easily be done with DigiVac's proprietary StrataCapture software.
Need More Precise Vacuum Control? We've got you covered. The STRATAVAC controller expands easily with a valve driver card. We offer a range of valves that work with the STRATAVAC line that were designed for your specific needs. Choose bleed vacuum control, or throttle vacuum control. Our plunger valve offers industrial ruggedness, or choose a bellows-type valve that has a larger orifice which offers higher throughput and faster pump downs but the control is little less precise than a plunger-type valve.
Our valve driver card can drive up to 2 valves at once. So you can control 2 points of your vacuum system or 2 chambers like 2 vacuum ovens. Did you know that DigiVac is an authorized reseller of Across International Vacuum Ovens? And an authorized reseller of Agilent rotary vane and dry scroll vacuum pumps. Our technical sales team can work with you to customize a turn-key package ideal for your application. 
The STRATAVAC Touch offers dashboard touchscreen control of up to 4 valves or 4 points in your vacuum system.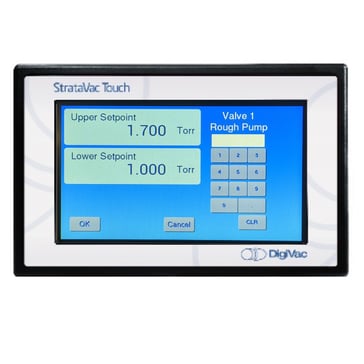 Wide Vacuum Range: Both STRATAVAC and STRATAVAC Touch can be designed to measure from rough to high vacuum and control up to 7.5 decades of vacuum. STRATAVAC achieves this through combining the readings of capacitance manometers to deliver a wide range with highly accurate readings. Or, a more economical option would be to combine the readings of a thermal sensor and a piezo sensor to achieve continuous rough to medium vacuum measurements.
Backed by Software Innovation: Did you know that DigiVac staffs a team of mechanical, software and hardware engineers? We have a team of 5 engineers with a rich history of temperature and pressure expertise.
We have worked with many of our partners to bring new innovations to the market, but we also have an onsite vacuum lab for both technical support and product innovations.
Need to control within a specific range at the high end or low end of the vacuum range? Our engineering team can replicate many applications in our lab. We can confirm the control range that you need while testing under vacuum.
If additional research and development is needed, we can work with you on a plan to design the additional software needed for your specific application. We offer both OEM and product development services.
STRATAVAC Touch Bundle with DINAMO Valve:
One of our latest innovations is our brand new DINAMO Valve, a novel dual-valve design. This innovative valve, bundled with the STRATAVAC Touch, is ideal for solvent recovery control and vacuum processing. With a fine proportional for both vacuum and venting all in one valve, customers benefit from its unequaled flow, unmatched precision control, and much more automated start-up procedure.
The DigiVac Mission is Simple:
Engineer and manufacture innovative measurement and control solutions that streamline and improve existing processes and enhance scientific outcomes. We strive to Be Nimble. Be Creative. Be Reliable.
Not sure how to build the best STRATAVAC combination to meet your needs? We can help.
Our technical sales support can work with you to understand your process needs and build an ideal STRATAVAC package.
Contact us at (732) 765-0900 or [email protected] – we'd love to hear from you!