Pharmaceutical Freeze-Drying and Vacuum Drying
Pharmaceutical Freeze-drying and Vacuum Drying for Research and Manufacturing | .01 Torr to 400 Torr
Pharmaceutical  vacuum instrumentation is used in research and manufacturing to help create bulk and active ingredients for FDA approved drug products as well as for sterilization of medical devices and to increase the shelf-life of a drug product.
Lyophilization, also known as freeze-drying, is a process used for preserving biological material by removing the water from the sample, which involves first freezing the sample and then drying it, under a vacuum, at very low temperatures. Lyophilized samples may be stored much longer than untreated samples. The resulting precipitate is a shelf-stable powder.  This powdered drug is later reconstituted at point of care for patient use.
Vacuum Drying: Another, important way vacuum instrumentation is used in the pharmaceutical industry is in vacuum ovens. Laboratory ovens are used in the medical field for sterilization. The heat in the oven sterilizes lab equipment used for operations, as well as glassware that needs to be clean for research purposes.
2 Drying Methods that Use Vacuum
Vacuum Ovens

A vacuum drying oven is most often used for delicate drying processes, such as drying tiny parts or removing flammable solvents. The low-pressure environment also minimizes oxidation during drying. A standard vacuum oven can operate at temperatures as high as 200C to 250C. Vacuum pressure is normally between 100 Torr to 10 Torr range.

Freeze-drying (also known as lyophilization)

Freeze drying is a water removal process typically used to preserve perishable materials, to extend shelf life or make the material more convenient for transport. Freeze drying works by freezing the material, then reducing the pressure and adding heat to allow the frozen water in the material to sublimate. Vacuum pressure is normally below 5 Torr.
The freeze-drying process has important applications in the pharmaceutical and biotechnology industries. This process requires the use of vacuum for the drying of heat-sensitive drugs and biologics at a lower temperature. Freeze-drying is mainly used to improve the stability and storage of easily altered drugs. Commonly applied to the production of injectable dosage forms of drugs, pharmaceutical freeze–drying is also used to produce diagnostics
Product Overview:
The STRATAVAC bundle with plunger-type vacuum control comes with a sensor card, 775i sensor, throttle valve controller card and plunger-type throttle valve, which is a rugged industrial valve with a smaller .5″ orifice giving you a faster acting valve with tighter control on your process.
Measure and control your process in the 1.0 – 775 Torr range (medium vacuum range) for industrial applications
This bundle has a control range of 2 Torr to 770 Torr
Extends life of pump by enabling pump to run closer to its base pressure
Ideal for measuring and controlling vacuum ovens for vacuum drying applications
The StrataVac bundle with bleed vacuum control comes with a sensor card, 536 KF25 sensor, VacStable Bleed Valve and valve controller card plus WiFi
Rich remote command line interface enables the user a high degree of remote control and monitoring from any browser
Bleed Vacuum Control helps increase molecular flow and throughput
Accuracy Range: .001 Torr to 6 Torr
Control Range: 1 Micron to 6000 Microns (.001 Torr to 6 Torr)
Ideal for controlling freezedryers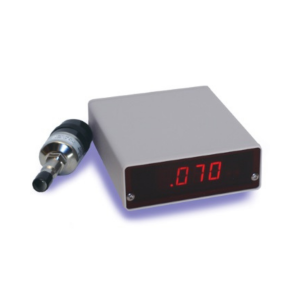 WIDE-RANGE LABORATORY GRADE VACUUM GAUGE
The DIGIVAC Model 200 is the industry's best value for a rugged digital vacuum gauge for measuring through 6 decades of wide range rough vacuum that has become the standard in laboratory research.
The instrument is housed in a laboratory grade case consisting of vinyl clad metal on an extruded aluminum base ensuring maximum durability
Highly impact-resistant because of no moving parts requiring infrequent calibration

The Model 450 Vacuum Controller measures 1-760 Torr and includes a proportional valve for vacuum regulation. Premium stainless-steel vacuum path model to support use in corrosive or volatile applications.
Stainless steel valve and vacuum path for corrosive or hostile applications
Super simple to use: just dial in your vacuum set point
Maximized pump down speed: designed with a much larger bore (9/32") proportional valve (compared to alternatives) that allows the controller to make precise changes in vacuum flow to achieve a very stable vacuum level
Ability to purge system to atmosphere with a simple front panel switch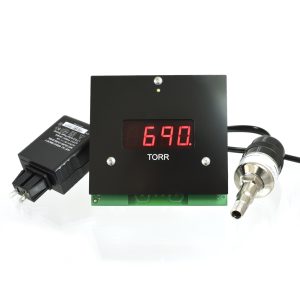 MODEL 801W
WIDE RANGE, PANEL MOUNT VACUUM GAUGE
The Digivac Model 801-W2C vacuum gauge combines fail-safe relays and rugged electronics for system integration and process control. Very simple and reliable vacuum instrument for process control.
This product is our bestselling panel mount gauge, and the industry's best value for a rugged vacuum gauge. Available in a radiation hardened version.
Measures through 6 decades of wide range rough vacuum with optional SPDT controls.
This gauge can output vacuum readings to an optional RS232 serial connection. Can also be used as a vacuum transmitter to a PLC or other device.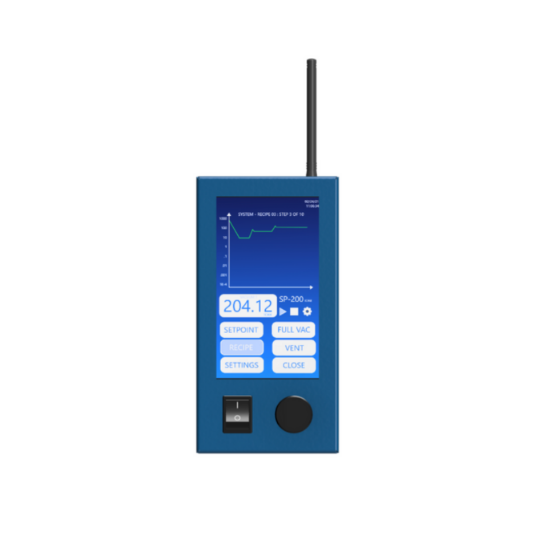 SNAP VACUUM CONTROLLER 
SIMPLE, NIMBLE, AUTOMATIC, PROCESS CONTROLLER
The SNAP  vacuum controller easily controls your vacuum process and venting with the tough of a button or the twist of a knob. mission control at your fingertips with the SNAP (Simple, Nimble, Automatic, Process Controller)
This product is DigiVac's Newest FULLY AUTOMATED VACUUM CONTROLLER and the only one on the market 
Its a vacuum controller with onboard ramp rate recipe control. Set up to 8 recipes based on time and pressure setpoints.
Dashboard pushbutton control for START, STOP functionality for each channel allows you to automatically vent or isolate your system with a push of a button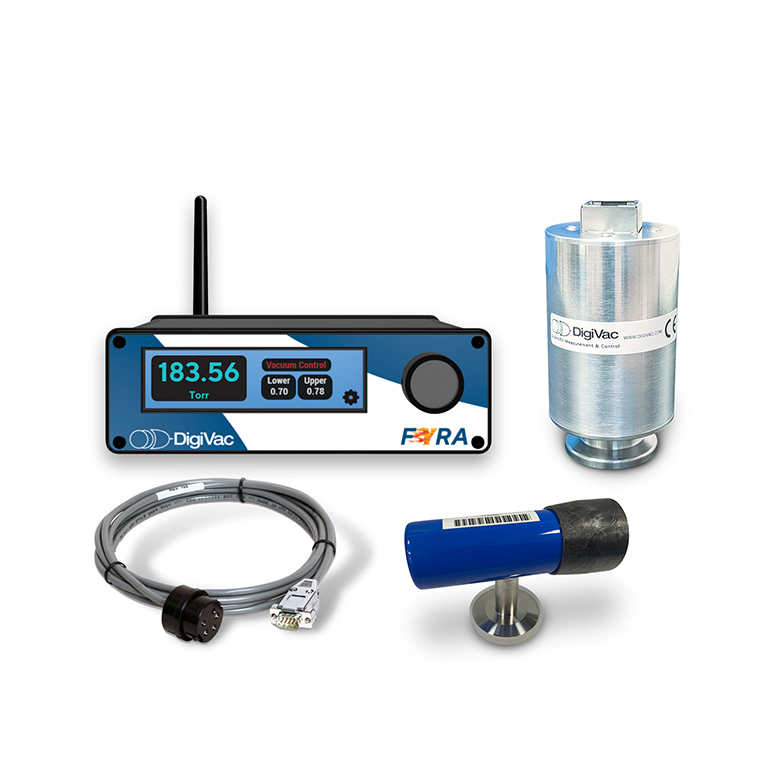 FYRA FOR END OF PRIMARY DRYING DETECTION
VACUUM DRYING MONITORING
FRYA End of Primary Drying Detection for indicating that the end of primary drying has occurred in freeze dryers and vacuum ovens.
This bundle is set-up to allow for vacuum drying applications like freeze-drying and vacuum ovens to help determine the end of drying. Will help you detect when most of the water or residual solvent from a product has been removed or the end of primary drying has been reached in a vacuum drying application.

When a freeze dryer is equipped with both a thermal and direct measurement, these sensors can be utilized to indicate the end of primary drying (

Source

).

The DigiVac FYRA controller has a rich remote command line interface which enables the user a high degree of remote control and monitoring from any computer when communicating through the USB port.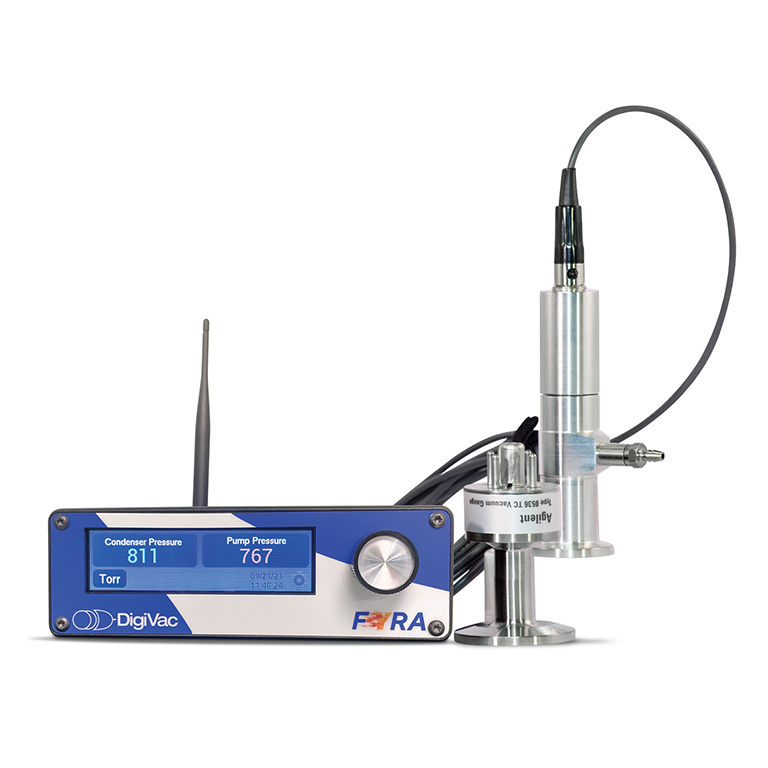 FYRA BLEED VACUUM CONTROLLER 
10 MILLITOR TO 6 TORR I CE,  UL, CSA
FYRA Bleed Vacuum Controller for venting or bleeding in gases like room air, argon, or nitrogen during vacuum processing applications, increases molecular flow and speeds up vacuum drying.
This bundle is set-up to allow for distillation applications like short path, freeze-drying, vacuum drying and other vacuum application that would benefit from the increase of molecular flow that you get from the bleeding of gases into your system.
Bleed air or other gases (like nitrogen or argon) into your system to control and maintain the vacuum level. This application can help you speed up the drying process. 
The bleeding of gases into a distillation process helps increase molecular flow which increases throughput which helps improve quality of distillate by avoiding additional time and oxidation in the boiling flask
Rich remote command line interface enables the user a high degree of remote control and monitoring from any computer
Bleed Vacuum Control also helps increase molecular flow and throughput