DigiVac    —    Scientific Measurement & Control
We have been designing and manufacturing DigiVac scientific measurement and control instruments since 1983. We specialize in innovative and custom vacuum gauge solutions for our clients. DigiVac's best customers appreciate our attention to detail, our predictable lead times and the ability to respond quickly to customer urgency.
W H A T    M A K E S    U S    D I F F E R E N T :
• Integrating Multiple Elements                      • Product Life Cycle Engineering
• Scientific Instrument Manufacturing            • Predictive Lead Times
• Useful Innovation                                        • Made in America
---
The DigiVac Leadership Team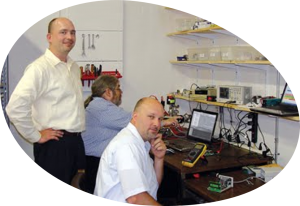 Tim Collins             Chief Executive Officer
Responsible for overall quality, customer satisfaction and business development. He has held management, business development, consulting, sales and engineering positions at many fortune 500 companies. Goldman Sacks 10KSB alumni (2017). Bullseye Precision Gauge_Patent Holder
Tom Bassi              Head of Research & Development
Tom is our Head of Research & Development and is one of the charter members of the company. Tom is dedicated to delivering quality products that delivers what is promised.
Tom Matthews       Chief Engineer
Tom is our Chief Engineer and has been an active innovator here for over 16 years. Tom has extensive experience in various programming languages, software quality and matching hardware and software technologies efficiently. He is our resident Free Spirit and has the ability to think outside the box and deliver unique thinking helping to drive successful product development.
Jennifer Collins    Director Sales and Marketing
Charismatic leader with over 20 years of experience in sales and marketing in the pharmaceutical and manufacturing  industries. With a proven proficiency to build highly successful brands.
---
DigiVac Mission
To build devices that are key telemetry for the success of critical processes, shipped with near zero defect while shipping 99% on time.
---
DigiVac Engineering Excellence
Over 35 Years of Vacuum Engineering Excellence

Design team has 60 years of combined vacuum and refrigeration engineering experience

The team has a passion for creating new products, and that are functional, durable and state of the art

Hardware and software engineers on staff for product creation, sustaining engineering and R&D
---
DigiVac Beginnings
Steve Collins founded Digivac in 1983. He had held many positions in engineering management throughout his career, most recently at Electro Impulse, where he designed industrial solutions for top military and commercial customers. He saw an opportunity to bring his expertise to the vacuum instrumentation and control marketplace thus DigiVac was born.
---
Industries Served
• R&D                         • Scientific              • Medical                                • Oil & Gas               • Aerospace
• Manufacturing          • Cryogenic             • Pharmaceutical                   • Laboratory             • Energy
• Power                      • Government         • Botanical Processing          • HVAC