DigiVac Product Warranty Registration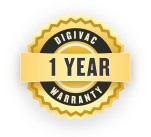 The Digivac Company warranties all gauges** for workmanship and function for a period of 1 year or more for select devices. Any gauge will be repaired and returned free of charge for any defects in workmanship or function, FOB Morganville, NJ.
Any gauge that becomes damaged (for example: tube contaminated, flashback or physical damaged) may be returned to DigiVac for repair at a time and materials rate.
Please call Digivac with a request for Return and an RMA number will be issued.
Also, ask how you can have your 1 year warranty extended to 2 years!
** Excludes vacuum sensors & tubes
Before we can issue an agreement for return of any equipment, the DigiVac Decontamination Form must be filled out and signed by an informed and responsible member of your organization.
Customers are responsible for handling shipping charges to and from our facility in New Jersey.