Vacuum Instrumentation for Medical Vacuum Drying and Sterilization | Rough Vacuum Applications | 1 Torr to ATM
Sterilization for medical equipment is vitally important since this process is used to render a product free from viable microorganisms. Steam is used in the many  sterilization processes. The steam is put under pressure that is higher than the atmospheric pressure (> 1 bar).
Need for Medical Vacuum Control
In a fractionated (pulsed) vacuum process steam is admitted into the sterilizer chamber after evacuation and immediately afterwards the steam-residual-air mixture is removed again.
Wrapped medical items must be dried before they can be aseptically removed from the sterilizer. An example of this would be medical catheters that are used for one-time use. During the sterilization phases condensation results, and vacuum drying is needed to effectively complete the process.
A vacuum level of 1.0 to 2.0 psia (6.9 to 13.8 kPa) is recommended for efficient drying. At 1.0 psia (6.9 kPa) chamber pressure, water boils at 38.7°C (101.7°F).
Quick Conversion to Torr
1 PSI = 6.8 kPa = 51.7 Torr
2 PSI = 13.7 kPa = 103 Torr
Consistent and reliable vacuum pressure is required to complete the vacuum drying process.
DigiVac has been a vital component in sterilization of medical devices for more than a decade.
STRATAVAC 775i | INDUSTRIAL VACUUM GAUGE

The StrataVac 775i gauge is paired with an isolated and hermetically sealed piezoresistive sensor which monitors vacuum pressures between 1 Torr to atmosphere.
FEATURES
Rugged design for harsh applications | StrataVac gauge with a piezoresistive 775i sensor is ideal for monitoring rough vacuum processes
Isolated and hermetically sealed stainless sensor to prevent contamination from system
Allows for recording and data capture via the USB port
RANGE: 1 Torr to 775 Torr | 2.6-1033 mbar | 15 PSIA
RANGE WITH ACCURACY: 1 Torr to ATM +/- 2 Torr
UNITS MEASURED: Torr, mbar, kPa
VACUUM INTERFACE: 1/8" Male NPT
Bullseye Piezo Rough Vacuum Gauge with Isolated 775i Sensor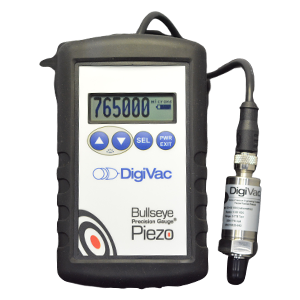 The Bullseye Precision Gauge Piezo-775i provides highly accurate and reliable vacuum readouts in the rough vacuum range 1 to 775 Torr and 11 additional measurement units. It is also available with a sensor option that measures vacuum and pressure 20 Torr to 85 PSIA.
Visual Graphing: Patented digital graphing capabilities (Pumpdown graph, Autoscaling line graph, and bar graph)
Isolated Sensors: For use in dirty environments or where corrosive gases are in use
Certifications: CE, CSA, UL, and RoHS
This Piezo Gauge is available in Bluetooth and Non-Bluetooth Versions and in 2 different sensor options
Vac2PSI Sensor and gauge combination has a vacuum to pressure range of 20 Torr to 85 PSIA
The Bullseye Piezo 775i vacuum gauge and sensor combination has a range of 1 Torr to 775 Torr
VPC | VAPOR PRESSURE CONTROLLER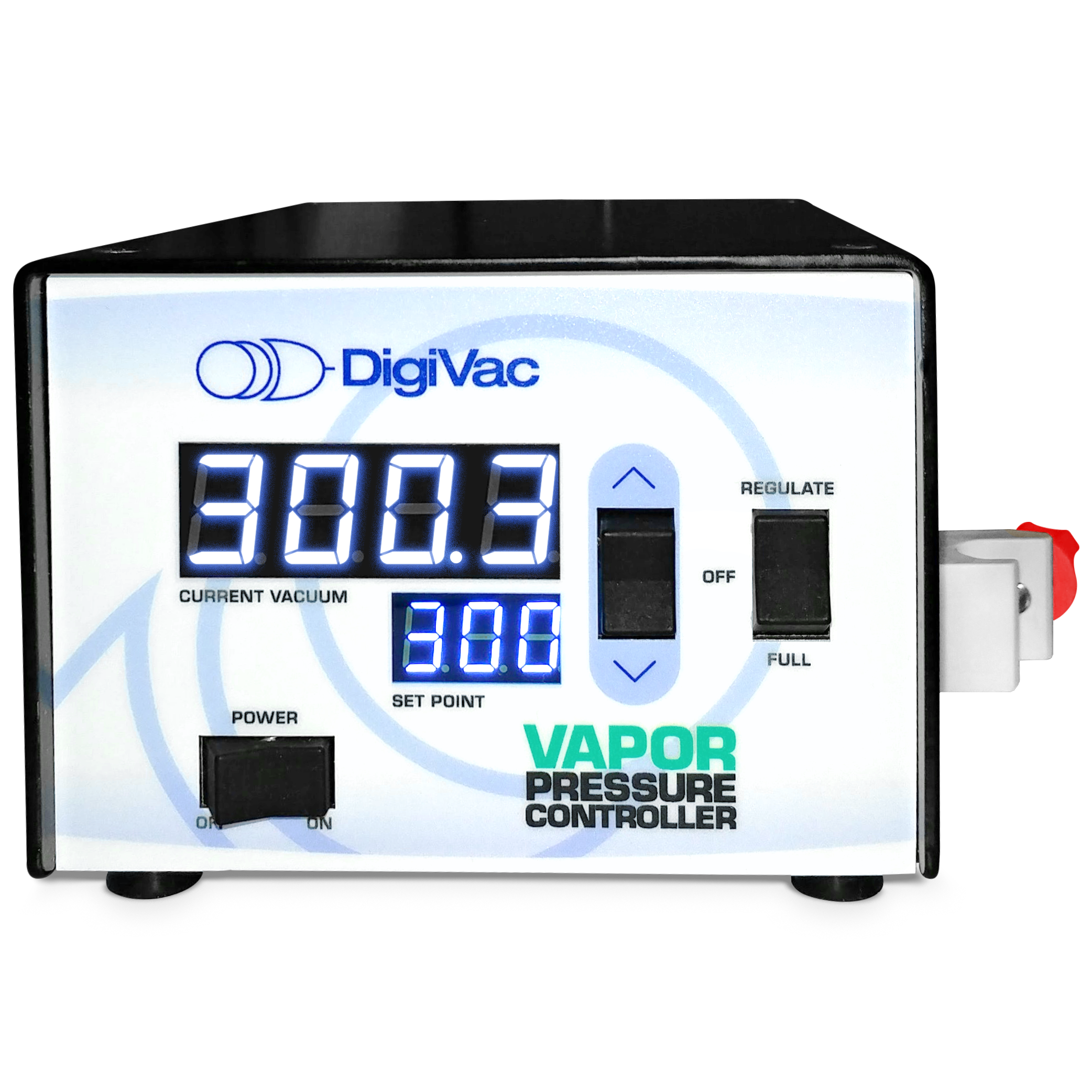 The Vapor Pressure Controller makes it easier to precisely process, extract and isolate distillate in industrial and research applications.
FEATURES
Large bright display of both the set-point and current vacuum control
Fine control of target vapor pressure for more precise compound separation through distillation
Flow path designed to be tolerant of harsh chemicals Mounting can be bench-top or on a laboratory pole
RANGE: 1 Torr to 775 Torr
ACCURACY: 2 Torr to 775 Torr +/- 2 Torr
VACUUM INTERFACE: 3/8" hose barb (input and output), but can be easily adapted to interface with different systems
MODEL 450 | STAINLESS VACUUM CONTROLLER AND REGULATOR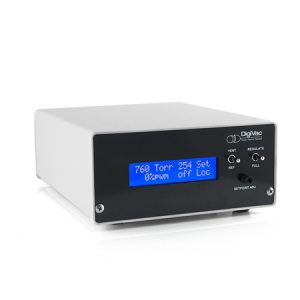 The Model 450 Vacuum Controller measures 1-760 Torr and includes a proportional valve for vacuum regulation. Premium stainless-steel vacuum path model to support use in corrosive or volatile applications.
FEATURES
Stainless steel valve and vacuum path for corrosive or hostile applications
Super simple to use: just dial in your vacuum set point
Maximized pump down speed: designed with a much larger bore (9/32") proportional valve (compared to alternatives) that allows the controller to make precise changes in vacuum flow to achieve a very stable vacuum level
Ability to purge system to atmosphere with a simple front panel switch
RANGE: 1 Torr to 760 Torr
ACCURACY: 2 Torr to 760 Torr +/- 2 Torr
VACUUM INTERFACE: 3/8" hose barb
Customized Vacuum Aspiration Example
DigiVac has developed products for aspiration flow control used for the suction of fluid with our vacuum aspiration controller prototype.
This approach maintains the necessary flow and gives the surgeon precise suction control to modify and refine their techniques . Check out our applesauce video demonstrating this customized example.
Contact Digivac to chat more about your specific need.