Vacuum Instrumentation for Vacuum Drying and Sterilization of Medical Devices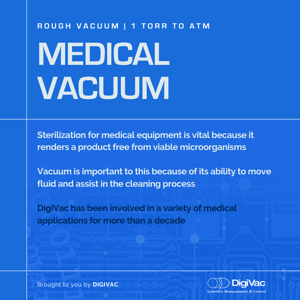 Sterilization of medical equipment is vitally important to render a product free from viable microorganisms (such as bacteria, fungi, and viruses).
Steam is used in vacuum sterilization processes. The steam is put under pressure that is higher than atmospheric pressure (> 1 bar).
A sterilizer configured to run a vacuum cycle will be equipped with a vacuum system. A typical vacuum cycle will begin with a series of alternating steam and pressure injections. The use of a vacuum controller to lower the vacuum pressure this will remove air from the chamber.
Why is Vacuum Sterilization Better?
Pulling a vacuum to remove ambient air from the chamber allows the steam to be sucked into areas where it would otherwise have difficulty penetrating. The absence of air (or reduction in vacuum pressure) within the chamber allows "steam to penetrate the load more quickly and effectively" resulting in more reliable sterilization and shorter sterilization cycle times (Underwood and Perkins) compared to gravity-fed sterilization.1
As the temperature and pressure are increased, the time required to sterilize items can be greatly reduced. Compared with dry heat sterilization, steam sterilization is the more efficient method because the moisture in steam is a good conductor of heat and is superior at penetrating the viral load.2
Wrapped medical items must be dried before they can be aseptically removed from the sterilizer. During the vacuum sterilization phases condensation results, and vacuum drying is needed to effectively complete the process.2
Typical Vacuum Range for Efficient Vacuum Drying
Consistent and reliable vacuum pressure is required to complete the vacuum drying process. A vacuum level of 1.0 to 2.0 psia (6.9 to 13.8 kPa; 51.7 Torr to 100 Torr) is recommended for efficient drying.
Why Partner with DigiVac?
DigiVac has been designing and manufacturing scientific measurement and control instruments since 1983.  We can also work with you on custom solutions with our team of software and hardware engineers. Our customers appreciate our attention to detail, predictable lead times and the ability to respond quickly to customer urgency.
DigiVac Product Highlights for Medical Applications | 1 Torr to ATM
STRATAVAC 775i
Industrial vacuum gauge
Rugged: design for harsh applications
StrataVac with an isolated piezoresistive sensor
Measures: 1 Torr to 775 Torr: accuracy +/- 2 Torr)

Ideal for rough vacuum processes

BULLSEYE PIEZO GAUGE | Vacuum & Pressure
Portable, battery-operated, for measure vacuum and pressure
The Bullseye Precision Gauge Piezo with isolated Vacuum to PSI sensor is highly accurate and reliable
Total range:

20 Torr to 85 PSIG

Most accurate range:

50 Torr to 85 PSIG

Accuracy:

+/- 15% Torr   +/- 0.5 PSI

Measurement Units: micron, Torr, Inches of Hg, kPa, Inches of H20, millitorr, mbar, Pa, PSIA, mm of Hg, bar, and mm of H2O
Also available in a Bluetooth version for remote monitoring.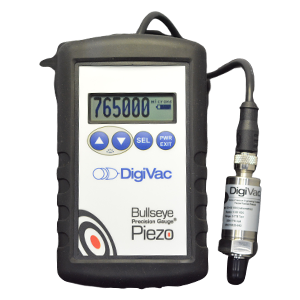 VAPOR PRESSURE CONTROLLER
Vacuum Controller with set-points
Fine control of target vapor pressure for precise compound separation
Flow path designed to be tolerant of harsh chemicals
Mounting can be bench-top or on a laboratory pole
RANGE: 1 Torr to 775 Torr (+/- 2 Torr Accuracy)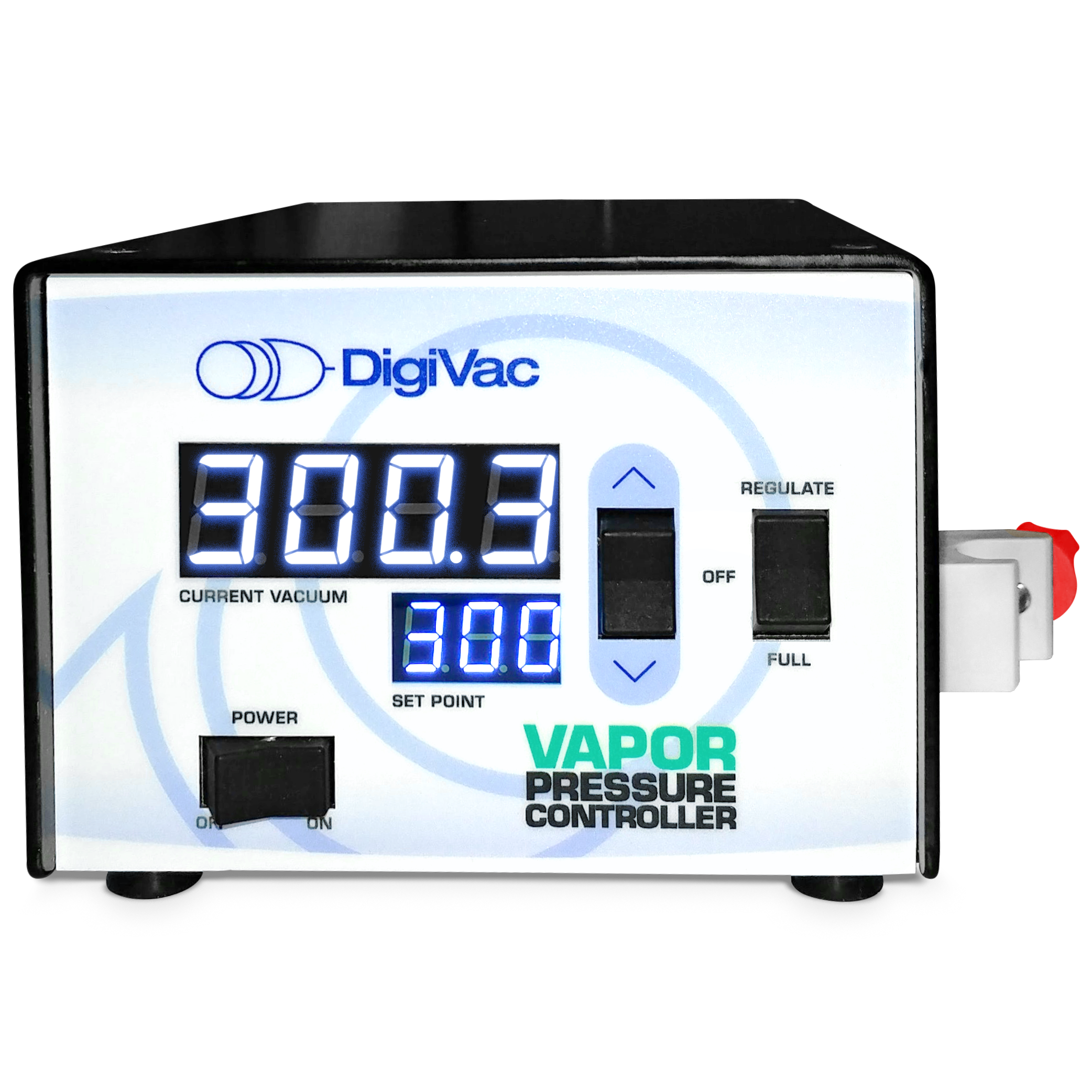 Dinamo | Dual Flow Controller (New)
Proprietary High Flow Proportional Control Valve
Automatically control vacuum suction with the touch of a button

Automatically control venting with the touch of a button

Remote Control Ability: able to integrate with existing systems (valve is also available for integration in PLC)
Measurement range: 1 Torr to 775 Torr
Control Range: 2 Torr to 770 Torr
Unique Vacuum Control: proportional throttle and proportional bleed control (vent to atmosphere) delivered from an integral dual valve module per channel
MODEL 450
Stainless Vacuum Regulator
This vacuum controller measures 1 Torr to 760 Torr
Premium stainless-steel vacuum path for use in corrosive or volatile applications
Maximized pump down speed: designed with a larger bore (9/32") proportional valve (vs. alternatives) to deliver precise changes in vacuum flow to achieve a stable vacuum level

DIGIVAC has been a vital component in sterilization of medical devices for more than a decade.