New Offer: StrataVac Convection-Pirani Gauge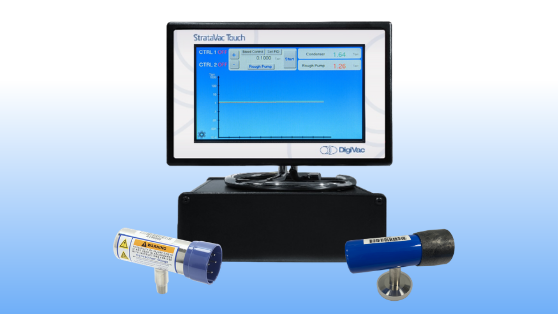 The new convection pirani controllers from DigiVac are incredibly versatile. They are the newest convection-enhanced pirani entrant into the market, and add a host of features previously unavailable with the other convection pirani controller offers.
Ability to control 1, 2, or 3 convection-enhanced pirani sensors by a single instrument
Ability to combine multiple pirani gauges with wide range gauges or capacitance manometers
Native ability to control valves for vent, load lock and vacuum process control with the Convectron pirani sensor
Simple easy to use large 7" touch screen with graphing and large numbers to display sensor readings
Available Convection-Pirani sensors offered by DigiVac include:
MKS 275071 (1/8″ NPT and/or KF16)
Lesker (1/8″ NPT and/or KF25)
Available CMs or wide-range gauges offered by DigiVac include:
1 Torr CM
10 Torr CM
1000 Torr CM
Cold Cathode Pirani (CCPG)
Order your convection-enhanced pirani controller today here!