Take Control of Your Process with DigiVac's New Vapor Pressure Controller
The Vapor Pressure Controller is DigiVac's newest product release. This instrument has the ability to help those working in the botanical market easily process plant material through automated distillations. It both measures and maintains the pressure within rotovaps, or any type of vacuum system, following the profile created on the Vapor Pressure Profile Manager – a free, downloadable software that comes with the purchase of a VPC.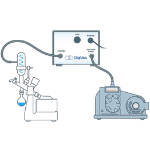 Easy to use and operate, the VPC has just four ports/plug ins on the back of the unit:
USB communication

Power jack

¼" hose barb for Vessel, Flask or Tank

¼" hose barb for Vacuum pump



The front of the gauge is similar in terms of being straightforward. It has displays of both your current vacuum and chosen setpoint, as well as a numerical up/down control, regulation button, and power switch. Just hook your vacuum pump to one side, the rotovap to the other side and plug it in.  If you'd like specific ramp rates and time duration, then install the free software, hook up the USB to connect the unit to the computer hosting the software and you can set up your process profile. The vacuum system is what you are going to regulate, an example being your rotovap, vessel, flask or vacuum oven. Once the unit is set up and regulating, the process can also be observed within the software, thus telling you how your system and pump are performing.