Detecting the End of Vacuum Drying with FYRA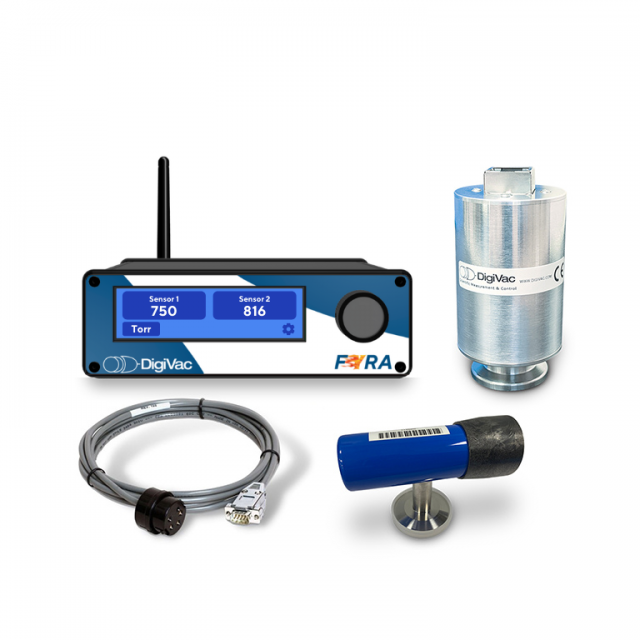 FYRA's Purpose
Trying to get to the primary drying end point can be time consuming and energy intensive whether you are going about it with a freeze dryer or a vacuum oven. However, there is a way to optimize this process so you know when your process is complete and all solvents like water are evaporated and product is dry. Wouldn't it be time saving if you took the guess work out of your vacuum drying process?
By using the Digivac FYRA vacuum gauge controller you are able to conduct the Capacitance Manometer vs the Pirani Convergence Test on your vacuum oven or freeze dryer. The FYRA is paired with both a capacitance manometer and a convection enhanced pirani sensor and displays both sensor readings simultaneously.
The Pirani vacuum gauge is built in such a way that the gas composition will alter its pressure reading. Pirani vacuum sensors read erroneously high in the presence of water vapor (gas dependent). Compared to a capacitance manometer which is designed to read absolute vacuum and is not affected by water vapor in the system–meaning they are gas independent. When your vacuum drying equipment is equipped with both a thermal (indirect) and direct measurement sensor, these sensors can be utilized to indicate the end of primary drying (Source).
Beginning the Testing Process
To begin with you would want to characterize the convection-enhanced pirani and the capacitance manometer (in this case the DCP Quantum) against each other in a clean, dry, empty system. The freeze dryer or vacuum oven is turned on, with nothing on the shelf. The shelf temperature can be left at room temperature, and the complete system should be stabilized with normal operating equipment and standard process settings.
Once the vacuum oven or freeze dryer have reached the standard process setting, the pirani and capacitance manometers readings should be logged. The difference in their pressure readings in a dry, empty and normally operating system will be relatively small (mT to 10's of mT) when the system is working properly.
And don't be worried! There may always be slight differences in the sensor's readings due to their differences in design! Keep note of this difference on your system since it indicates how close they come together when there is little to no water vapor in the gas mix within the chamber. This is your Pressure Delta (ΔP)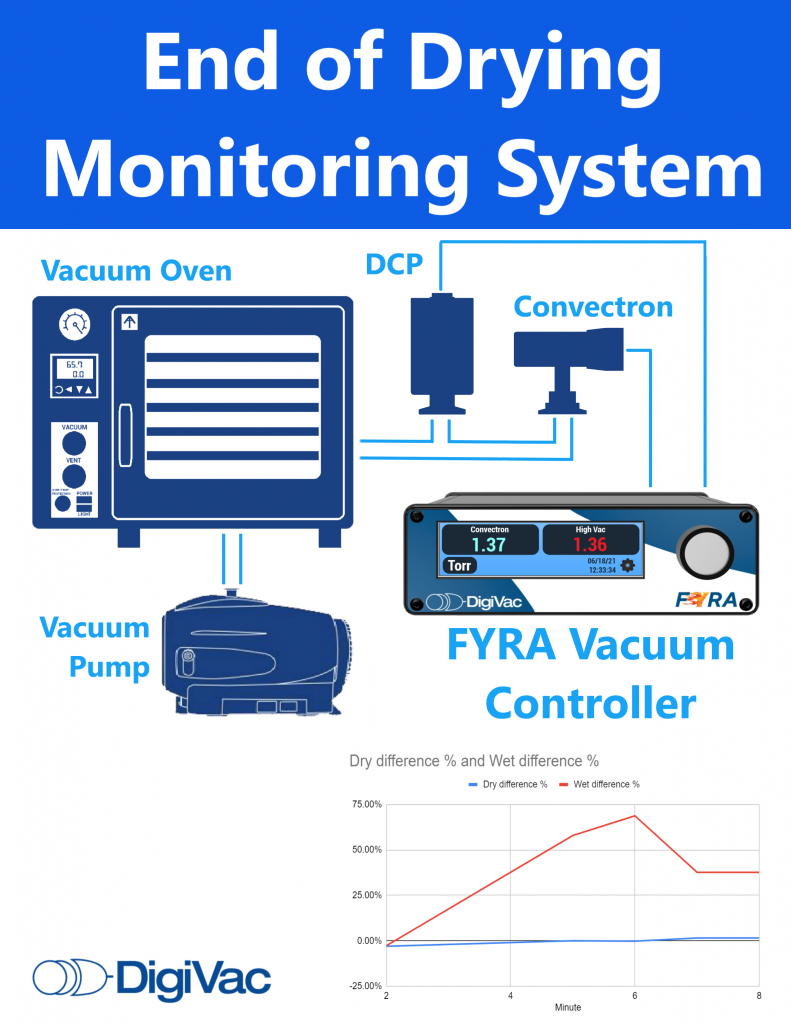 Detecting the End of Drying
Once you have your Pressure Delta (ΔP) , you can move to phase 2. This is done with product loaded in the chamber for the purpose of removing water or drying.
At the beginning of your process you will note that the pirani sensor will read a much higher pressure than the capacitance manometer. As your vacuum drying process progresses the amount of solvents (in this case water) converting to vapor will decrease as the product dries. Eventually the pirani and capacitance manometers will approach the ΔP. Approaching this ΔP value indicates that the end of primary drying has occurred.
Using the FYRA End of Drying Bundle will help you take the guess work out of your drying process and possible save you time and money along the way. Another added benefit is that you can document your process run utilizing the USB output on the FYRA controller when connected to a laptop and logged into vacuumnetwork.org or by utilizing the DigiVac Stratacapture software.
Interested on how you can optimize your drying process and enable end of drying detection for your lab? Check out our FYRA bundle here!