Why Should You Clean Your Vacuum Sensors?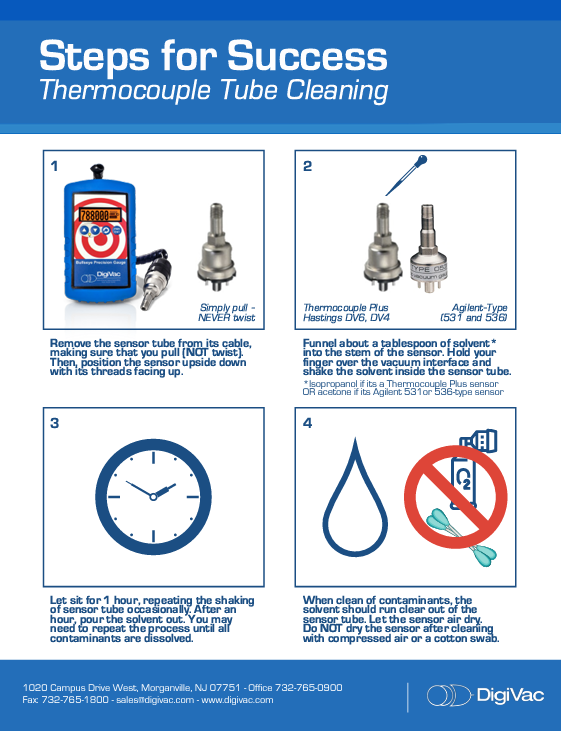 A Case Study in Contaminated Vacuum Sensors & Their Effect on Readings
Tim pitched a blog idea to me based around my experience with this repair. A customer sent a StrataVac Touch back that wasn't reading correctly. The sensors were so contaminated for so long that it changed how they read vacuum and even after repeated cleanings and attempted adjustments, the gauge would not read in spec. I took some data at relevant points after cleaning but before calibrating, after attempted calibration, and then after replacing the sensors. Seems like a good potential case study for what happens when you don't maintain your sensors in a super dirty process.
Introduction
DigiVac's Calibration department has serviced gauges in all states of cleanliness and functionality over the years. All vacuum instruments need regular maintenance to assure their accuracy, and the importance of sensor cleaning in particular cannot be overstated. Vacuum processes with large amounts of process chemicals or oil contamination will contribute to sensor deterioration if regular cleaning is not performed.
In this case study we are reviewing a customer repair of their StrataVac Touch which was sent to DigiVac for evaluation after the customer noticed the readings seemed incorrect. The cannabis oil inside the customer's Agilent 531 sensors was allowed to sit for so long that the filaments partially deteriorated, which changed the way they read vacuum. Even after multiple cleanings and attempted adjustments, the gauge would not read in spec. Our Lead Calibration Technician, Hilary, led the study as she evaluated the damage to the sensor. She was able to record data at relevant points after cleaning but before calibrating, after attempted calibration, and then again with replacing the sensors all together. Examining the following data entries will provide a thorough observation of the effects of not maintaining your sensors, especially when it is in a process prone to contamination.
Test 1

Both sensors got thorough cleanings with acetone before taking these readings, so the test manifold would not be contaminated. Readings are most skewed at higher vacuum levels. This is in line with what we have observed with customer repairs. Gauge S/N is K19A22. Sensors are 3 years old and have likely seen zero maintenance.
Test 2

The zero end is a little better here but still nowhere near spec. This is after attempting to calibrate the gauge as normal. The potentiometers ran out of room and this was the best adjustment that could be gotten out of it.
Test 3

These readings are with brand-new sensors. The gauge easily meets spec here.
After observing the data points and the limits of the sensor after each trial, it is obvious that the contaminated sensors have been neglected for so long that the damage was irreversible. The corrosion to the filaments cannot be cleaned or undone, and the sensor is fully-welded with no service access to the filaments. The only solution was to replace the sensors.
Benefits of Maintaining Your Sensors
We consider sensors consumable parts, but regular cleaning and service will prolong their life, as well as improve the accuracy and repeatability of their vacuum readings. Returning gauges to DigiVac that have been neglected for long periods may result in having to scrap them if the contamination is too severe and has had negative effects on the filaments, which would incur additional costs. Regular cleaning and service will also ensure you don't lose processing time by sending gauges for emergency repair, then having to wait until they are returned.
When in Doubt, Clean it Out!
Thermocouple sensors (VGT-500, Agilent 531/536) and convection gauges (Granville Phillips 275 and 375) used in dirty environments should be cleaned as soon as inconsistencies in the readings are detected. This may be once per month or once every three months depending on the process. If oil vapor or backflow contaminates the sensors by accident in the course of processing, the sensor should be cleaned immediately.
Isolated sensors such as capacitance manometers and piezo-type sensors like the 775i are isolated, so process contaminants should not affect their readings.
When a sensor or gauge isn't performing up to standard, our first question is always "Have you tried cleaning it?" If the cleaning does not return your sensor to its original state, then the gauge may simply need to be calibrated. Even in clean, dry environments, we recommend calibration about once per year, and more frequently for dirty environments. The constant heating and cooling of the filaments will change how the gauge reads vacuum over time. These sensors aren't damaged, as the gauge reading them simply needs to be readjusted.
For More Information
We provide calibration services for a variety of sensors and gauges. We can calibrate almost any instrument from any manufacturer with a thermocouple, pirani, piezo, or convection-type sensor. Please reach out to the calibration department if you have any questions about what gauges we can service, and if you have any further questions, feel free to contact us!
Interested in Learning More?
Check out these videos about our calibration processes!